Fr. Maximilian Mary Dean - some photos from the journey of life...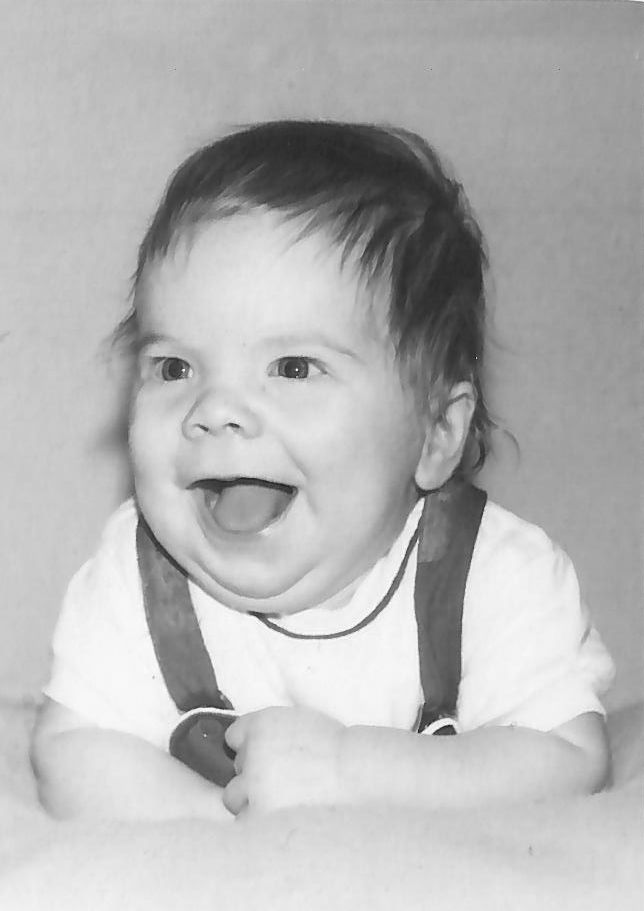 "

...music is perhaps the most powerfully impressive force in the world." - Dr. Peter Kreeft (Catholic Philosopher)
Follow me on Spotify where you can stream my music for free and create custom playlists of my songs.
Although my mom and dad did not sing or play any instruments, music was a major part of my family background. For example, my maternal Great Grandmother Helen was in a band and, raising her four children alone during the Great Depression in the 1930s, she supported the family in part by playing piano at the silent movies. Her son, my Grandfather Robert  (WWII veteran - you can check out this video of my visit with him in July, 2020 a few months before he died), performed as a singer and harmonica player. And on my father's side my Grandmother Marguerite, daughter of a Methodist minister, had the most beautiful soprano voice and was an accomplished organist and pianist as well; in fact, I recently found out that she had recorded two vinyl record albums of hymns in 1958 and 1960 (yes, before the Beatles released their first record my Grandma was recording albums in the studio!). If anyone is interested they can listen to her records Hymns Precious to Me and Joy in Christ Songs on my music page.
As for myself, because of the musical talent in my family my mom made sure that my brother and I were exposed to music at an early age. I began playing piano at the age of 9 and started on the guitar at the age of 10. On piano I can still remember learning Keep on Loving You by REO Speedwagon and the popular soundtrack HIll Street Blues. On guitar I was heavily influenced by "stars" of my day such as Eric Clapton, Joe Walsh, Mark Knopfler, Neil Schon, Jimmy Page and Stevie Ray Vaughn. In high school, besides live performances with rock, alternative and fusion bands in the Indianapolis area, I began experimenting with studio recording - both at home and in professional studios - and this set me on a trajectory of perennial recording (here is a sample of some studio recordings from my high school days). Although mostly a guitar player, I learned many instruments along the way (bass - I was the bass player for the The Catholic Cowboys for a few months in 1991; keyboard - I was the keyboard player in my first band Departure, although we never 'departed' from the basement where we practiced; drums - while guitarist for Under Fire the drummer gave me some lessons, I practiced quite a bit and in my next band The Understatements I played drums for some of the songs; saxophone - unfortunately I didn't persevere with the sax) and I sang in choir in high school and all through college. I went to college with a scholarship as a classical guitar performance major at DePaul University in Chicago under Mark Maxwell, a disciple of Andres Segovia's protege Robert Guthrie (in fact I had the privilege of attending a one week Masterclass with Robert Guthrie in 1988). Although I was studying classical guitar, I found myself going to Wise Fools Pub almost every Tuesday night - they had an open mic blues venue and I would play blues guitar with the singer and whoever else might show up. It was during that first year of college that I had a major conversion for which I am eternally grateful. I transferred to the Franciscan University of Steubenville where I received my degree in Philosophy in 1991. With the Franciscan Friars of the Renewal from 1992-1995 and throughout my time with the Franciscan Friars of the Immaculate from 1995-2017 I was always leading music - primarily as a singer, but also accompanying with guitar or organ depending on the context.
It was during my time as a Franciscan of the Immaculate that I had the privilege of recording my first album (CD/cassette) Christmas Vigil with St. Francis of Assisi. I was now a Christian music artist recording the divine praises! EWTN radio used to air this every Christmas Eve for many years (and perhaps they still do). After several albums and over a hundred concerts of sacred music, having left the Franciscans of the Immaculate and entered the Diocese of Harrisburg, PA, as a diocesan hermit, I put out an anthology of my recordings presuming that my recording days were over and done. The anthology (which captures 26 years of recording) is entitled Memorare: Through the Years with Fr. Maximilian Mary Dean and features the "best" of my recordings from college until its release in 2016.  
Then, out of the blue, as a Hermit, I started receiving new songs. In fact starting in 2017 I was waking up with complete songs in my head at 3-4am. They were upbeat songs with contemporary instruments - I would sometimes even hear the horn section. With time and through prayer I realized that I was being called to record again - but this time from the silence and solitude of the Hermitage and using more contemporary instrumentation. Certainly if anyone doubts the joy that comes from a strictly contemplative life, a quick listen to Light of Jesus ought to be sufficient to capture the "new song" that every contemplative sings to the Lord in his or her heart. I think of the Virgin Mary's Canticle: Magnificat anima mea Dominum et exultavit spiritus meus in Deo salutari meo - "My soul doth magnify the Lord; my spirit hath rejoiced in God my Savior" (Lk 1:46).
And so I find myself using gifts I had developed before my conversion but set aside, gifts I never used for the glory of God after my conversion. Part of that was practical - once I started studies for the priesthood and entered religious life it was neither appropriate nor possible to play, sing and record like I did in high school; part of that was spiritual - I needed to be deeply purified of my attachment to sin and self before I could put these gifts at His service and use them for the upbuilding of the Body of Christ.  
Is it possible to use contemporary instruments for the glory of God? There are some who would say an emphatic "no." My stance, developed through much prayer and study over the decades, is that clearly there is sacred music - suitable for the Liturgy - and that is one of the primary reasons I have always been attracted to the traditional Latin Mass (Gregorian chant, sacred polyphony, organ). But there is also a place, even a need, for non-liturgical music. For example, at a summer camp gathered around an evening fire there is certainly a place for a guitar, tambourine and some festive hand-clapping - songs of praise. In the car when mom is driving her son or daughter to a distant soccer tournament, 2 hours of Gregorian chant and sacred polyphony might not be the most suitable music for the occasion - there is, even among the hermits and desert Fathers, a need for holy eutrapalia. My thoughts spontaneously go to the Pantheon in Rome - a pagan temple built to "all the gods" as the name in Greek indicates - before the Roman empire embraced Christianity. Later this pagan temple would be transformed into a Roman Catholic Church dedicated to Sancta Maria ad Martyres by Pope Boniface IV on May 13th, 609 A.D. Taking that which is "secular" and washing it in the Blood of Christ - this has been a constant mission of Holy Mother Church.
By way of analogy, a Monastery can bake altar breads for Holy Mass, but they can also bake other breads and pastries that are clearly not for Holy Mass but are indeed part of Catholic culture. Hot cross buns, pretzels, and King cake (Cajun) are all concrete examples of this. While they are inappropriate for celebrating Mass, they are most certainly appropriate outside of Mass and are an authentic expression of our Catholic Faith.
My thoughts also go to St. Alphonsus Maria Liguori. One of his most authoritative biographers, Rev. D. F. Miller, writes:  
Erotic cantilenas and bad songs were common among the people. [hmm... sounds a lot like our times!] The considerable evil they spread, especially among the youth, excited in him an ardent desire to fight against these scandals. He, therefore, according to the inspiration of the moment, composed a number of hymns truly popular in style as well as in feeling, some of them in Neapolitan dialect. And, as he was a musician of considerable merit [N.B. according to Fr. Miller he practiced harpsichord about 3 hours daily in his youth and frequently attended the opera - though he would remove his glasses so as not so see anything scandalous], he popularized by melodies full of sweetness and piety his own verses. Later on, he trained his missionaries to sing them, and he sang them himself with the people, with his sweet and resonant voice. 'These hymns, as graceful as they are moving,' says Tannoia, 'created as much enthusiasm as his preaching.' 
Obviously St. Alphonsus, the great moral theologian, Bishop, Founder, preacher, author and Doctor of the Church, was also a very gifted musician and he did not hesitate to take popular tunes and put pious lyrics to them, which may even be the case with the famous Italian Christmas carol Tu scendi dalle stelle ["You come down from the stars"], which he intended for use outside of the Sacred Liturgy (here is Andrea Bocelli's version). In a word, St. Alphonsus understood the need and role of non-liturgical music as part of the fabric of any Catholic culture.
And what about Fr. Antonio Vivaldi - my favorite composer (more melodic than Bach, less whimsical than Mozart). He was ordained a priest at the age of 25, but due to ill health he obtained a dispensation from saying Mass about a year and half later. He was always a priest, always a staunch Catholic writing the most amazing pieces of sacred and classical music. He would frequently autograph his pieces - both sacred and secular (opera) - with "an extravagant dedication to the Virgin Mary." An expert researcher on Fr. Vivaldi's life and works, Micky White, says, "Vivaldi could do a rock concert quite easily, and Vivaldi can appeal to everyone. Vivaldi, he's alone, he's absolutely unique. You talk about the Baroque style, and the romantic style... Vivaldi cuts that whole suede... He doesn't fit anywhere, and he fits everywhere." A Marian priest whose music was saturated with divine faith, wholly unique, yet thoroughly part of the fabric of his times.
My humble prayer: that my music will lead souls to glorify God with heart and mind and assist them in their spiritual journey.  
Magnificate Dominum mecum, et exaltemus nomen ejus in idipsum  - "O magnify the Lord with me; and let us extol his name together. " (Psalm 33:4)